Shan-Rod brand diverters are designed to give long, trouble free service in all low pressure service applications. The versatility of the fabricated tee and damper allows the designed diverter to match specifications as required by your systems.
The basic damper consists of an integral fabricated carbon steel "tee" and damper body, fabricated carbon steel discs, plate carbon steel flanges, 304 stainless stub shafts, stainless taper pins, carbon graphite inboard bushings, graphite packing, 304 stainless packing follower, graphitar or stainless lantern gland, lubricated stuffing boxes with alemite purge fittings, conventional swing-thru seat design and tandem linkage between power and slave damper.
All valves are custom made with additional sizes available upon request.
Click images to view larger
---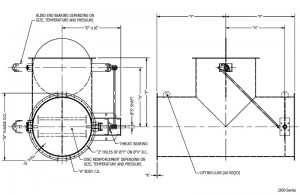 ---