Fabricated Damper for the Petro-Chemical Industry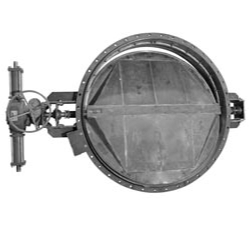 A Shan-Rod brand valve was requested by a client in the petro-chemical industry to fabricate a large diameter damper for their waste heat recovery system, a commonly used economic method to increase plant production or to transfer energy. This damper would handle flue gas with dust, and called for a flow rate of 222,000 SCFM, a design temperature of 750°F, an inlet pressure of 2 psig, and shut off pressure of 3 psig. Seal design for this damper was a hi-performance bolted metal step seat.
We manufactured the body, disc, and flange components on-site from carbon steel, using fabrication processes including high-def plasma cutting, rolling, and forming as well as CNC horizontal boring and vertical turning. The disc was hardfaced with cobalt on the leading edges, with weld-end duct connections as specified by ASME B31.3. It also utilized a hydraulic Scotch Yokes actuator with manual override. The parts were assembled and prepped with SSPC-SP3, before applying a red oxide primer. 2 sized dampers were manufactured for this project: an OD 8′ damper weighing 10,160 lbs, and an OD 10′ damper weighing 15,140 lbs. Material thicknesses ranged from 3/4″ to 1-1/2″.
In process and after construction testing was extensive, with this damper undergoing a series of NDE tests including radiography of body seam, hardness testing of cobalt hard-faced surfaces, and PMI on all alloy materials. Other testing includes hydrostatic test of body assemblies, a 24-hour heat stroke test at design temperature, and seat leakage testing. Four dampers were delivered to the client in Belle Chasse, Louisiana, after a turnaround time of 8-9 months. For more information about this large diameter damper project or our other custom capabilities, please see the table below or contact us directly.